The name Fula was taken from the bleak and remote Shetland island of "Foula". The band formed in 1994 when Rob needed "real musicians" to compliment new songs. Nigel Moss (bass guitar), who has been with Fula throughout its history, Jason Gilman (guitar) and Nadeen Plumtree (vocals) soon joined. An old Alesis rhythm box was used until 1997 when it was replaced by ex Masque drummer Greg Boulton. This enabled Fula to progress from a purely writing and recording project to live performance as well.
In 1998 Fula appeared at the now legendary (and sadly one-off) BADAM '98 festival, the bands faithful rendition of Pink Floyd's 'Shine On You Crazy Diamond' bringing the house down, encompassing the very spirit of the event.
Zoe Stafford was brought in to the Fula fold in early 1999, when the band went from strength to strength.
The whole of that year was taken up with writing, recording and touring material from the acclaimed "Dark Matter" album.


The band continued to record and perform and in 2002 "The Beautiful, the Delicate and the True" cd was released featuring Josie Bostin (vocals). At the same time Fula's earlier recordings were made available for the first time on cd entitled "Songs From Beyond The Merrygolight".




In 2003/4 the band re-united with former "Dark Matter" vocalist Zoe Stafford for 4 special performances, particularly in Rotherham for the Classic Rock Society, For this gig Fula received the BEST PERFORMANCE 2003 AWARD at the annual Classic Rock Society BOTY - (Best of the Year) - Awards ceremony.
In 2008, Fula, re-united with original vocalist, Nadeen Plumtree, performed with Swedish band Ritual, and German space rock group Arilyn for the Classic Rock Society and in the Fula home town of Buxton.


Fula musicians, 1994 - 20??

Rob Gould - keyboards

Nigel Moss - bass guitar

Jason Gilman-Hawkes - lead guitar
Simon Lind - lead guitar
Eduardo Capella - lead guitar

Nadeen Plant (Plumtree) - vocal
Janet Galloway (Booth) - vocal
Michael Clement - vocal, percussion
Zoe Stafford - vocal
Josie Bostin - vocal
Fiona Ford - vocal
Debra Stafford - backing vocal

Greg Boulton - drums
John Patterson - drums

James Lampard - sax
Kimberley Kitchen - trumpet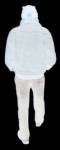 © Rob Gould. All Rights Reserved.