Back to Reviews
Rob Gould - DOME - Reviews

First intended as a twenty minute recording, captured live at the University of Derby - Dome - Buxton, the fifth effort by Rob Gould was a studio extension in order to give the listener a piece consisting of three quarters of an hour.

Rob writes of the experience of sound in the dome as being fascinating and rewarding in every sense. He is joined here by Natalia Brightmore,with celestial voice and flute. Rob has composed and played the "space music" close to the style of Klaus Schulze and this can be discovered throughout the single track.

It is difficult to differentiate between the live recording and studio recordings, a split in the track would have been desirable for sonic clarity.

However, the musical journey is very beautiful and pleasant. The composition is enriched by a guitar solo, piano, using a theremin, vocoder and discrete samples.

His art of music enables the piece to accommodate repetition and space so as not to fall into boredom.

Good work!

Fred Marboss
Prog Resiste (Belguim magazine - issue 55)









Conceived during a fairly turbulent two-year period in Rob's life, as he tells us in the notes, this 45 minutes' worth of highly potent ambient music, with its background synths, wierd sound effects, heartbeats and disembodied voices, manages to be calming, soothing and yet disquieting at the same time.
At its core (The 'Soft Centre') is an excellent passage that he and vocalist/flautist Natalia Brightmore recorded live at the University of Derbys' 'Dome' in Buxton in 2005. Atonal in places, but with beautiful melodic interludes, like the piano that comes in around the 33rd minute, it's a genuinely challenging piece of art.
Rob now looks upon its conception as a self-healing experience, but for me each listen has yielded something different, and the whole piece seems somehow to be a living entity. A journey through Rob's mind? It will be a journey into yours.
Dave Winstanley
Classic Rock Society magazine - issue 164
Jan 2008
Home
Latest News
Gigs
Musicians
Discography
Reviews
Listening Post
Shop
Gallery
Links
Contact
Credits
Inspired Images
Special Feature
Special Fearture 2
Message Board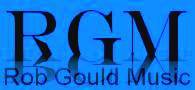 © Rob Gould. All Rights Reserved.