Home
Latest News
Ashtar Diary
Ashtar Diary 2
Gigs
Musicians
Discography
Reviews
Listening Post
Shop
Gallery
Links
Contact
Credits
Inspired Images
Special Feature
Special Fearture 2
Message Board
Latest News 2003
Latest News 2005
Latest News 2004

DECEMBER 27th 2003
New Fula gig review posted from their award winning performance for the classic Rock Society, Nov. 1st 2003. See Reviews.

DECEMBER 26th 2003
A merry christmas and a Happy New year to all visitors!
New translated review posted. See Reviews.

DECEMBER 21st 2003
The new cd, Caves of Thunder is now available from this website. Priced £9.99 + shipping. See Ordering.

DECEMBER 17th 2003
A great gig last Thursday in Buxton from Rob and Zoe Stafford , joined for the last two songs by Fula members Nigel Moss, Greg Boulton and former Fula guitarist Jason Gilman.

DECEMBER 7th 2003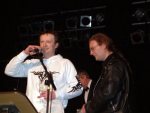 Fula were given the MD's Award for "Best Performance of 2003" at the Classic Rock Societys' annual BOTY (best of the year) Awards night in Rotherham. Fellow progsters and friends of Fula, "Strangefish" also picked up 3 Awards for best drummer (Dave Whitaker) best male vocalist (Steve Taylor) and best new band.

DECEMBER 1ST 2003
Due to a dose of the flu the vocal recording of the new Rob and Zoe cd has been postponed until shortly after xmas, although guide tracks were done and sound marvellous!

A new review from iOpages magazine in Holland posted. See Reviews.

NOVEMBER 20TH 2003


Official release date has now been moved (again) for Caves of Thunder to 8th December 2003 due to house move and website problems.
The Gavin Newman film Wookey Exposed has won an award for best adventure film at the annual Kendal Mountain Film Festival.

Rob is teaming up with former Fula vocalist Zoe Stafford (left) to produce a new cd of reworked Fula tracks. The expected release date is (again) 8th December 2003.

Rob and Zoe will also be appearing in conjuction with Public-i, live at Mood on Buxton Market Place on thursday 11th December supporting Strangefish. £3 on the door.8.30pm start.

New Wookey review posted. See Reviews.

SEPTEMBER 24TH 2003
Official release of Caves of Thunder has yet again been delayed due to extended travel commitments and illness. The new date for release is now Monday October 20th 2003.
The recent Fula gig in Buxton was an outstanding success (picture below by Geoff Arnold) and the band are looking forward now to the Classic Rock Society appearance with Strangefish at the Herringthorpe Leisure Centre, Rotherham on Saturday 1st November.


SEPTEMBER 9TH 2003
New Guestbook added to this website!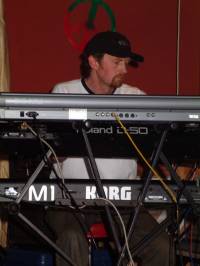 SEPTEMBER 8TH 2003
Fula News. The band will be performing for the first time in nearly a year at the Herringthorpe Leisure Centre in Rotherham, UK for the Classic Rock Society on Saturday November 1st 2003 supporting Strangefish. Tickets are priced at £10 (£7 to CRS members). Original "Dark Matter" vocalist Zoe Stafford will be joining the band on stage for the first time in nearly 4 years and a splendid time is guarrenteed for all! Fula will also be appearing (in some shape or form) with an accoustic Strangefish at the George, Buxton, Derbyshire UK on Saturday 20th September 2003. The gig is billed as an intimate "warm up gig" where anything may happen. (be warned!). Admission is free.

AUGUST 12TH 2003
The new Wookey cd is now also available to buy online at www.ebay.co.uk and www.ebay.com for a limited period only.

AUGUST 10TH 2003
The release of Caves of Thunder has been rescheduled for 15th September. Updated information regarding this cd and the Wookey release have now been posted. Go to the More Info page.

AUGUST 4TH 2003
The Remastering of the Caves of Thunder 10th Anniversary cd is now complete. The cd features 11 bonus tracks recorded around the same time (1993). Special thanks to Jason Gilman for all his help and dedication. See Discography for track list update..

JULY 31st 2003
New Wookey review from Descent magazine posted. See Reviews.

JULY 30TH 2003
New Wookey review from the Buxton Advertiser posted. See Reviews.

JULY 24TH 2003
1993 recording of "Caves of Thunder" to be remastered next week. + additional tracks Mist, Pulse, Heavenly, Volospions Dream (and more) recorded between 1990 & 1993 to be added.

JULY 19th 2003
New Wookey review from Alistair Flynn, Classic Rock Society. See Reviews

JULY 14th 2003
New Wookey cd out now.

JUNE 28th 2003
New review of the Rob Gould album, "Wookey " by Paul Baker from UK radio show Phoenix Soundscapes posted. See Reviews.

JUNE 20th 2003
New review of the Fula album, "The Beautiful, The Delicate and the True" posted from Prog-Resiste magazine based in Belgium. See Reviews.

JUNE 16th 2003
New musiclinks added to the links page. Proglands (Canada - progressive music encyclopia), Prog-resiste (Belgium - progressive rock magazine), Synth Music Direct (UK - electronic music +), EufOnia (Mexico - non-commercial-rock site), and Nucleus (Argentina - online progrock +), respectively.

JUNE 13th 2003
Rob and Nigel Moss (Fula) have been interviewed on an Argentinian website called Nucleus.
This weekend, Gavin Newman's "Wookey" film will be shown as a "Work In Progress" at a caving event at Priddy Village hall, a little village up on Mendip above wookey hole in Somerset. The film will be shown at 3pm on Saturday June 14th and 3pm on Sunday (15th). Saturday evening there will be a BBQ and band at the village hall.
The full and final version of the film will be shown at Wookey Hole Showcaves in a few weeks. Details to follow.

JUNE 4th 2003
First "Wookey" review now on the reviews page. The UK premier of the film "Wookey Exposed" will be at the Mendips Cavers Club 2003 annual bash on Saturday June 14th. More details to follow .

MAY 26th 2003
New Nigenet link added for website of Fula bass player Nigel Moss.

MAY 24th 2003
Gigography part 1, (1995 to 1999) added to the Discography page.The first on the list was the only ever gig with original vocalist Nadeen Plant. All 1998 concerts featured Janet Galloway on vocals. (Janet never recorded with the band!). Zoe Stafford fronted the band for all 1999 appearances.

MAY 23rd 2003
The "Wookey" film was well recieved at the first British Film Festival, Denver USA. Track 1 of the "Wookey" cd, "The Sunken Sea" is 'penciled in' to be added to the film as an audio backdrop to arial views of Glastonbury, Wookey and Wookey Hole as an extended introduction.

MAY 5TH 2003
Release dates confirmed for "Wookey" and "Caves of Thunder". The "Wookey" cd will be released on Monday 14th July 2003, and "Caves of Thunder" will be released on Monday 11th August 2003. Online payments now accepted for Rob Gould and Fula cds using PayPal via our Ordering page.


MAY 4TH 2003
Wookey promo sent for review to Rock Society (Classic Rock Society magazine) UK and iOpages, Holland. A special Fula - Rob Gould programme to be aired on Alternative Music Radio Show in Brazil.

MAY 2ND 2003
Hello World. Website finally online after a few hosting problems. All sorted now. Update to Wookey track listing on Discography page.

APRIL 21ST 2003
The 'Wookey' album is now "in the bag" .The cds release date has been moved to Monday June 9th 2003.

APRIL 14TH 2003
Ex Fula guitarist Jason Gilman has added guitar parts to 5 tracks on the "Wookey" album. Post production starts tomorrow (15th).

APRIL 8TH 2003
Fula were due to appear at the "Craig Y Nos" festival in South Wales. Unfortunately, organisers, 'Karnataka' have had to cancel this years festival due to a clash with Glastonbury and their over hectic schedule.

APRIL 1ST 2003
Rob again in the studio writing and recording (dotting the "i's" and crossing the "t's"!!) for the forthcoming "Wookey" soundtrack cd. A release date of May 12th 2003 has been pencilled in to co-incide with Fula's first gig of the year and Gavin Newman's trip to the United States to show the "Wookey Exposed" film, at the First Annual British Film Festival in Denver, Colorado.