Latest News 2008
December 8th 2008

Fula News

New review posted for Classic Rock Society gig at the Montgomery Theatre , Wath Upon Dearne last month.
See

Rob Gould News

4 complete Rob Gould pieces are now available for free from www.reverbnation.com/robgould.
These include a very rare live track, the full 14 minute version of When The Stars Threw Down Their Spears, recorded at the HLC, Rotherham, in 2005


November 2nd 2008

Rob Gould News

There is a new website now online for all fans of Rob Gould and electronic music in general.
Follow this link to find out more: Rob Gould and Electronica appreciation society.
Fula News

Following on from their well recieved gig in Buxton, Fula return to the hallowed turf of the Classic Rock Society this saturday (November 8th), supporting Swedish legends Ritual.
More info at: www.classicrocksociety.net



October 13th 2008

The Return of 'Fula'

Fula are back, playing their first gig in almost 5 years.
The band now features original vocalist Nadeen Plumtree, brazilian and former 'Ashtar' guitarist, Eduardo Capella, ex-'Myoho' multi-intrumentalist and drummer, John Patterson, along with ever-presents, keyboardist Rob Gould and bass player Nigel Moss
The event is taking place at "The Eagle" in Buxton on Thursday 23rd October 2008
Fula will be supporting phenomenal german band "Arilyn" as part of their "OK UK 08" tour.
Entry on door £4 . 8.30.p.m. til 12.30.a.m
Dates for the Arilyn 'OK UK 08' tour are as follows:
17.10.08 The Hobbit, Southampton
18.10.08 The Peel, Kingston Upon Thames
19.10.08 The Hare and Hounds, New Mills, derbyshire
23.10.08 The Eagle, Buxton, Derbyshire
24.10.08 The Haygate, Telford

more info at www.arilyn.de



June 4th 2008

Ashtar News

Following the departure of Eduardo Capella from Ashtar I too have, after long deliberation, decided, with great sadness, to leave the band.
The reasons are purely logistical, with the distance between myself and the Rio based group making it more and more difficult to be able to give my time and commitment to the band that it deserves.
I would like to take this opportunity to thank all associated members of Ashtar, past and present for their great frendship and for allowing me to be part of such a wonderful group over the passed 3 year rollercoaster ride!
I will still be contributing to the new Ashtar album - From The Otherside - (out later this year) with the odd keyboard part, but, from now on, I will be concentrating on Fula and my own solo projects.
The band have already found a replacement for Eduardo in the form of guitarist Bruno Loureiro from sister group Anam Glas, and i sincerely hope Ashtar can find a new keyboard player as soon as possible.
Eduardo Capella will be hooking up with Fula and Arilyn this summer, basing himself in Germany from July until further notice.
Rob Gould News

Work continues on the Dave Winstanley project with 2 songs - Someday, Somewhere and February now recorded, and a third track - The Circle Song partially recorded. Some other contributors to the project are: Gonzalo Carrera (Karnataka), Martin Orford (IQ), Christian Kulbs (Arilyn), Nadeen Plumtree and John Patterson (Fula), Huw McDowell (ELO) and Denny Laine (Wings, Moody Blues) etc...
The next Rob Gould solo cd - The Lightness of Being - is being worked on and it is hoped that it will be avaiable later this year. I'm working with reflexologist, Lynn Excell, to make the cd an accompaniment to reflexology treatment,and as a stand alone ambient piece.
Fula News

Rehearsals are going very well with most of the back catalogue now in place for live performance, as well as new material just around the corner.
Fula will be supporting German group Arilyn at the Mood Basement in Buxton, UK on Thursday 23rd October 2008 and will be supporting Ritual, from Sweden, on Saturday 8th November 2008 at the Montgomery Theatre, Wath on Dearne, nr Rotherham, for the Classic Rock Society.
More gigs to be announced soon. See

for more details...



March 26th 2008

Fula News

It is with great pleasure that I'm able to announce the return to Fula of vocalist Nadeen Plumtree. Nadeen left the band back in 1997 due to work commitments but is now back, which is great news for the band and fans alike.
Nadeen co-wrote, with Rob, the majority of the first two Fula cds ('Beyond the Merrygolight' and 'Dark Matter'). Her unique vocal style, stage presence, lyric and melody writing ability has already impacted on Fula, enabling the band to re-launch their sound and new material on the public.
Rehersals and recordings have already started to take shape, and gigs are now being booked for Autumn 2008.
Thursday 23rd October @ Mood Basement, Buxton, Derbyshire , UK, supporting Arilyn, (Germany)
Saturday 8th November @ The Montgomery Theatre, Wath on Dearne, Rotherham, Yorkshire, UK for the Classic Rock Society, with Credo, supporting Ritual (Sweden)
Rob Gould News

Rob is currently in the studio, working on the Dave Winstanley track, The Circle Song. More updates soon.







January 29th 2008

Rob Gould News

A new review of the Rob Gould album, Dome has been posted. You can read Dave Winstanley's (classic rock society) review, here. Dome Reviews








Latest News Archive 2008
Latest News Archive 2007
Latest News Archive 2006
Latest News Archive 2005
Latest News Archive 2004
Latest News Archive 2003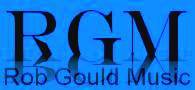 © Rob Gould. All Rights Reserved.